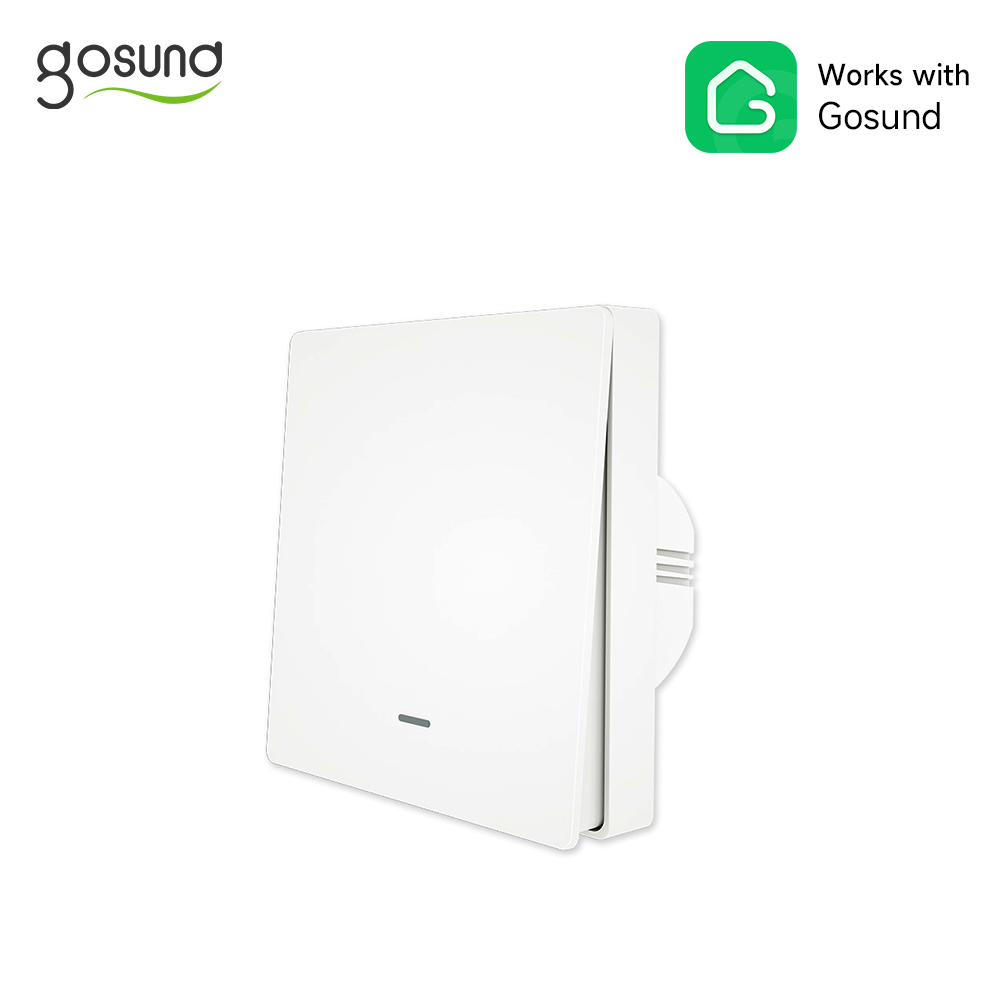 ${data.index + 1}/11
One ZigBee Smart Switch With TWo Wirings Optional
2020 New Arrival Upgraded with More Personalized Points:
Provide much more convenience and updates for your smart lifestyle with the price unchanged as before.
Update 1: No Capacitor Required

Ours:No more worry about being affected by the noise from the capacitor when sleep, with no capacitor required as complex installations anymore for normal use
No capacitor required / one switch for two wirings optional
Note: If there is no neutral wire in your house, just ignore the N position for wiring, and if there is one, just wire it for normal use
Update2: One Switch For Two Wirings Optional
Update 3: A New ldea For 2 Way Control
Multi-control association of the switch to another ZigBee smart switch in the App for achieving 2 Way feature( two switches control one light)
Note: There is no need to wire the new added switch to the light, only L and N are required for wiring. (for neutral wire version)
Update4: New ON/ OFF Relay Status in App
More personalized settings as ON/ OFF/ Remember last status when power off
Update5: Backlight Switch with ON/ OFF Optional No influences on sleep.
Smart Zig Bee Switch
Intelligently control the device after connecting it to most ZigBee hub, Tuya ZigBee hub required for its much more compatibility with zigbee devices than other hubs
Smart Life Tuya Remote Control
Remotely control your switch wherever you are
Hands-free Voice Control
Free hands via easy voice control with Alexa and Google Home

Note: Hub is not included in the package
Timer Function
Timing setting and countdown options
Family Sharing
Add device to your Smart Life App to get multiple control ways for controlling with your family together.
You can create group in the APP to manage all the lights in your house and share the device to your family members
Multiple people control one / One person controls more than one
How to achieve 2 way/multi-control
Step 1

1.Wire switch 1 to N+L+L1

2. Wire switch 2 to N+ L, no light needed

Step 2

1. Complete the confguration of switch 1 to APP
2. Achieve way by associating switch 1 to switch 2
Note :For neutral Wire required version only

Step 3
Now you can manual and app control one same light with switch 1 and sWitch 2 at the same time

Step 4
Multi-control associate to more switches by repeating steps above to acheive 3 or more sWitches to control one Same light
Note: No capacitor required for easy installations.

Note: No capacitor required for easy installations
Note: If there is no neutral wire in your house, just ignore the N position for wiring, and if there is one, just wire it for normal use.

Parameter:
Working voltage:AC100-250V,50/60Hz
Current type:Total 10A
Inductive load(LED/CFL):3-120W
Resistive load(Incandescent):3-300W for 110V;3-600W for 220V
Power consumption:≤0.5W
Working temperature:0℃~40℃
Brand Name: Gosund
Origin: Mainland China
Material: Plastic
Item Type: Switches
Switch Type: Push Button Switch
Certification: CCC
Is Smart Device: YES
ZigBee Wall Touch Smart Light Switch with Neutral Wire/No Neutral Wire,No Capacitor Needed Smart Life/Tuya 2/3 Way Muilti-Control Association Remote Control Works with Alexa,Google Home Hub Required
By Moes
Main Features:
1.New design with neutral wire required and single live wire featured in one switch panel;No neutral wiring required for the single live wire version;Wire the neutral wire on the switch when needed;No capacitor needed for the new update version for better user experience without noise from electric current;Tuya Zigbee hub is required for the normal use of this switch,featured as much compatibility with tuya smart devices than any other hubs.
2.New idea for 2/3 Way circuit (two switches control one light)that is explained as multi-control association of this switch to other smart switches in App;ON/OFF relay status as remember last status when power off and backlight switch setting in Smart Life App for better sleep at night;capacitive touch control, turn on/off your light with a single touch and scratch resistance glass panelgives the best look to blend with any wall design.(Note:You can multi-control associate of this switch to multiple different switches,but several gangs on one switch is not available,only one gang on one switch can be associated for multi-control.)
3.Differ in features from traditional common switch,this smart switch is able to be controlled by various ways alone with the best value like App control,touch control and voice control;achieve multi-control by associating to other smart switches to get 2/3-way circuit for your house lights.
4.Compatible with Alexa,Google home and Yandex allows free voice control;remotely control devices and intelligent settings allowed on your smart phone via Smart Life/Tuya App wherever you are;Take full control of connected appliances with timers, schedules and countdown (1/5/30 mins, 1 hour, etc.) with the app; share control with family and friends for added convenience
5.No more worries about purchasing the wrong version for your house wiring limited;only supports 2.4G network;includes full 2-year warranty and 60-day refund guarantee for complete satisfaction